Professionally Designed Outdoor Staging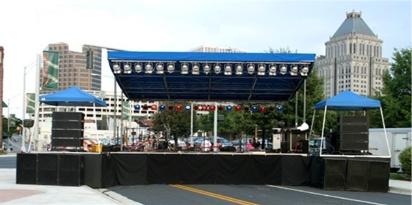 Professionally designed from the ground up to work outdoor shows, concerts, festivals and special events, we provide fast, hassle-free setup service, with many flexible configurations to accommodate both small and large events.
Fast Flexible Setup!
In the towed position, the stage is only 8 1/2 feet wide, allowing us to get in and out of tight spots. We can quickly raise and lower the roof, making it easy to install the canopy and hang lights -- all in about an hour!
After setup, we can even tow the stage to another nearby location by simply removing the stairs and raising the leveling jacks.
From sidewalks to stadiums to mountain tops, we take the hassle out of outdoor events!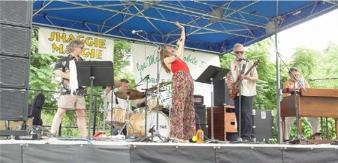 Performers love it!!
From musicians to dance troupes, performers are enthusiastic about the sturdiness of our mobile stage, the level non-skid floor and the great acoustics.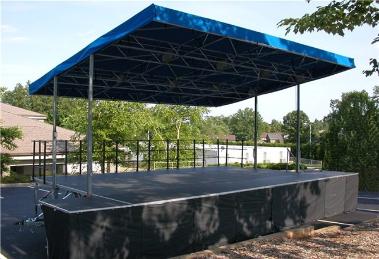 Safety Features
Our stages adhere to DOT, NHTSA and CALIFORNIA FIRE CODE regulatory requirements. The 6061 grade aluminum frame, leveling jacks, non-skid flooring, locking system, fire-retardant/water resistant canopy, backdrop, sidewalls, and skirting area, are all provided to ensure a safe performance.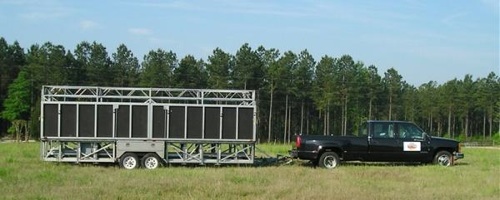 Insured
$2,000,000 Certificate of Insurance available on request.
Each stage comes equipped with a 24'x 18' load bearing roof, a set of stairs with handrails, and a 12' equipment loading ramp. Optional 100 amp 220 volt 50' power distribution is available for on-stage amps, PA systems & lighting.